Gay stories categories (tags) > Gay male bondage stories (2)



Mason Meets Roland - Part One
Mason Reed lived in total abstinence for three years, following an abusive relationship. After noticing a particular gentleman around town for the past year, Mason summons enough courage to introduce himself. The friendship takes Mason into a new realm of intimacy, one that he was aware of, but had ignored, which helps him to emerge from his self-imposed shell. Contains vivid, erotic detailed scenes of M/M bondage, tickling, anal and oral sex...
Rate this story, Author : haystacks, Main category : Fantasies.
Posted at : 27-Nov-2002.


Karl"s Fullfillment
A True Story of M/M Bondage/Tickling Erotica...
Rate this story, Author : haystacks, Main category : Fetish Stories.
Posted at : 07-Aug-2002.




Pages 1, 2 ...


Search our archive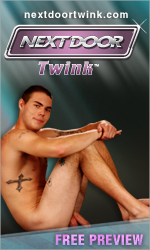 Random story
First Time Sex

Ludwig "The rabbit" is back at Bagatelle, where he's happy to see Marie-Hélène is as "open" as she was the year before... But Ludwig makes a new friend there, Francois... and Francois likes Ludwig... a lot!