Art Lessons : Part Two
(Part 1 from 1. Fiction.)

It had been a year since Jeff left for school. I still thought about him often.
The doorbell rang surprising me that someone would be at my door in the middle of the day. As I pulled the door open I was met with a familiar beaming grin.
"Hi Pete, long time no see. My roommate and I were heading back to school and I thought I'd stop by." Jeff gestured toward a young looking asian kid behind him.
I was so happy to see him. I threw open the door and pulled him to me giving him a tight hug.
He still looked pretty much the same as when he left. His sandy red hair was a bit darker, a little longer. His face looked like it had grown even more freckles. Though still thin his broad shoulders kept him from looking skinny. His eyes still the same sparkling green.
"It's so good to see you Jeff. Introduce me."
"Pete, Kim. Kim, Pete." Jeff gestured to his friend behind him.
Kim looked impossibly young for college.
"Come in, I'm so glad you stopped by and it's truly a pleasure to meet you Kim." I shook his warm hand and pointed them toward the living room. "Sit, I'll get some refreshments."
I brought them each a drink and sat down across from them.
Jeff slipped his running shoes off and started to lean his feet on the coffee table. Quickly he put his feet back on the floor.
"Relax, just make yourselves at home guys. No formality here."
He wrapped his toes around the edge of the table and they started talking.
I heard all about school and classes and how Jeff and Kim became roommates. The two boys rattled on non-stop like a tag team. I was lost in my own thoughts and fantasized while they talked. I barely heard what was being said.
Finally they finished.
"So how long you goanna be around Jeff? When do you need to get back . . .?"
"Well, Pete, I told Kim that I didn't think you'd mind if we hung out at your place for a couple of days. Classes don't start for another week. Would it be ok?"
Jeff lifted his gaze and stared into my face smiling.
"It'd be great to have a little company, Jeff, now or any time. When you're in town you just plan to flop here, ok?" I had to look away to avoid being hypnotized by his eyes.
The day had worn down by the time the boys got moved into the guest room and, for me it was cocktail hour.
"I don't know if you guys drink any alcohol?" dumb question I thought, "but this is my time of the day for a drink. You guys want anything? Kim, are you even old enough to drink?"
He laughed "You don't know how many times I've been asked that, Mr. Long. I can assure you I am, and can prove it. I'm 19 and closing on 20. In Canada that's drinking age."
"So what can I get you guys? and call me Pete, Kim."
"Just a beer for me thanks." Jeff said with Kim nodding.
I handed each of them a beer and had a scotch on the rocks for myself.
We continued the conversation about school and some of my illustration work.
After a couple beers Jeff just went ahead and helped himself to a beer, serving Kim when he was empty too. I asked him to redo my scotch - mostly ice.
Jeff brought me a tumbler of mostly scotch and little ice.
I laughed taking a sip, "the ice must've melted Jeff."
The conversation got livelier and I put a couple of trays of appetizers in the oven.
They were quickly wolfed down between guzzles of beer and stories.
With each beer the stories involved fewer and fewer clothes.
"Pete, do you mind if Kim and I have a shot of that Jack I saw sitting on the counter?"
Before I could answer Jeff went to the kitchen and returned with the bottle. He proceeding to pour shots for himself and Kim.
"Ooooo eeeeeee, I've just gone from buzzed to shit-faced." Kim declared wiping the back of his hand across his face. He held out the shot glass for Jeff to fill again.
"Pete, tell me some stories about Jeff when he was your student and all." Kim asked.
I told the story of Jeff riding up on his bike and coming over every couple Saturdays to study art.
"What about the last drawing lesson before college Pete? Jeff told me a little but I'd like to hear all about it from you."
I looked over at Jeff who was grinning, nodding his head.
"I think that's a story Jeff should tell, don't you Jeff?"
Kim ignored me and waved Jeff closer, "Jeffy, Jeffy c'mere." Kim held his hand up to his mouth to whisper something.
"No, Kim. I'm not goanna do it. No way."
"Just ask him, JEFF!" Kim said in a louder whisper. Jeff continued to shake his head no and started to blush.
"Ask me what, guys? I'm sure not goanna let you off the hook now."
Jeff took a long swig of beer.
"OK, so, Pete, you won't want to do this, I know you won't. But . . ."
"What the hell, Jeff? Just ask."
"Ok! Kim wants me to ask you if you'd do the ah. . . dance, you know, like you did." Jeff shambled through the request. "I told him about it and he said it sounded really like really, really cool fun. I know you won't want to but . . ."
"Jeff, you told him ah . . . everything?!"
Jeff grinned.
"Well, ok, come with me" I stood up and helped the boys off the couch.
Earlier in the year I'd picked up a cheap CD of stripper music and often used it to dream of my time back then. My heart was pounding like a year ago. I was deep in the closet and hadn't had any other sex since Jeff left. Very hot and horny.
The familiar brassy strip-tease grind started whining through the speakers. The boys flopped down on the foot of the bed waving their beers in time with the music.
Swaying side to side I floated around the room. I grabbed a scarf from a closet hook and pulled it between my legs, scrubbing it back and forth and then let the scarf flutter past the boys' faces.
Slowly I unbuttoned my shirt and pulled the tail loose from my pants. My shirt fell open and I worked my stomach like a pro. The shirt fell off my shoulders and slid down my arms. In a snap I whipped it off and twirled it over my head before tossing it at the boys. They jumped for it like bridesmaids grabbing for the bride's garter, beer shot everywhere. Jeff wrestled the scarf away from Kim and pressed it to his face.
"Show it all, drop 'em big boy, show us wha'cha got", they whooped and laughed in the best strip club tradition.
Kim jumped up and started stomping his feet and swinging his hips wildly.
I popped open the top button on my jeans and pulled the zipper down a bit to get it started just as I did last year. I rolled my hips causing the zipper to open at a tantalizingly slow speed, my cock began to put pressure on it. Kim moved toward me waving the scarf. I turned and bent over until my palms touched the floor. inviting Kim to press his crotch into my ass.
Joining in, Jeff jumped up and started to grind his crotch into my face. Kim was driving so hard I had to grab Jeff's waist for balance. I looked up at Jeff's splotchy red face.

My arms around Jeff's waist we danced around the floor, pulling off pieces of clothing. Jeff fell back on the bed. I noticed that he had the lightest fuzz around his pink nipples that trailed down his stomach and surrounded his belly button.
Kim danced over to Jeff and started twining his hands over Jeff's body shoving his back to the bed. The beautiful contrasts between the boys was dramatic. Jeff's skin was a creamy white, Kim's the beautiful carmel color of coffee light with cream. Kim's nipples were dark and plump, full and budding from puberty, Jeff's a pale pink topped with a small cherry nipple.
I found myself doing my own chanting "take it off, take it off" while I swayed slowly watching the boys snaking around each other. Jeff unbuttoned Kim's jeans pulling the front down to expose the top edge of his shiny black pubes. Then he fluttered his hand back up Kim's stomach and chest teasing each nipple with his index finger.
My head was pounding. The boys were driving me over the edge of a cliff.
Sitting on the bed Jeff leaned forward and bit the front of Kim's zipper.
"Owe, Jeff that hurts." Kim was trying to push Jeff away.
Kim flopped back on the bed and lifted his hips while Jeff tugged on the jeans finally pulling them free of Kim's legs. He sat with them dangling from his mouth giggling.
Kim's dick started to lengthen and the foreskin had peeling back to a dark brown rim surrounding the purple head. Markings were deliciously lined all over with browns, veins a dark blue. His balls, red from where Jeff had bitten them, were nestled in a fuzzy black nest.
Jeff kicked his own shorts off.
While giggling both boys looked over at me and lunged at my legs tackling me to the floor. It felt like a million hands all over my body as they groped, pinched and tickled me while yanking my pants off.
Kim firmly rolled me into a kneeling position on my hands and knees. I wagged my rear like a dog and looked up grinning at Jeff. A sweet gentle smile crossed his face as he took my head in his soft hands and knelt down.
The boys got to business. I accepted Jeff's shiny cockhead into my mouth. I could feel Kim's cock search for my hole, hoping I was ready for him bareback. I really didn't have any experience with being fucked in the butt. The answer quickly came with the first penetration.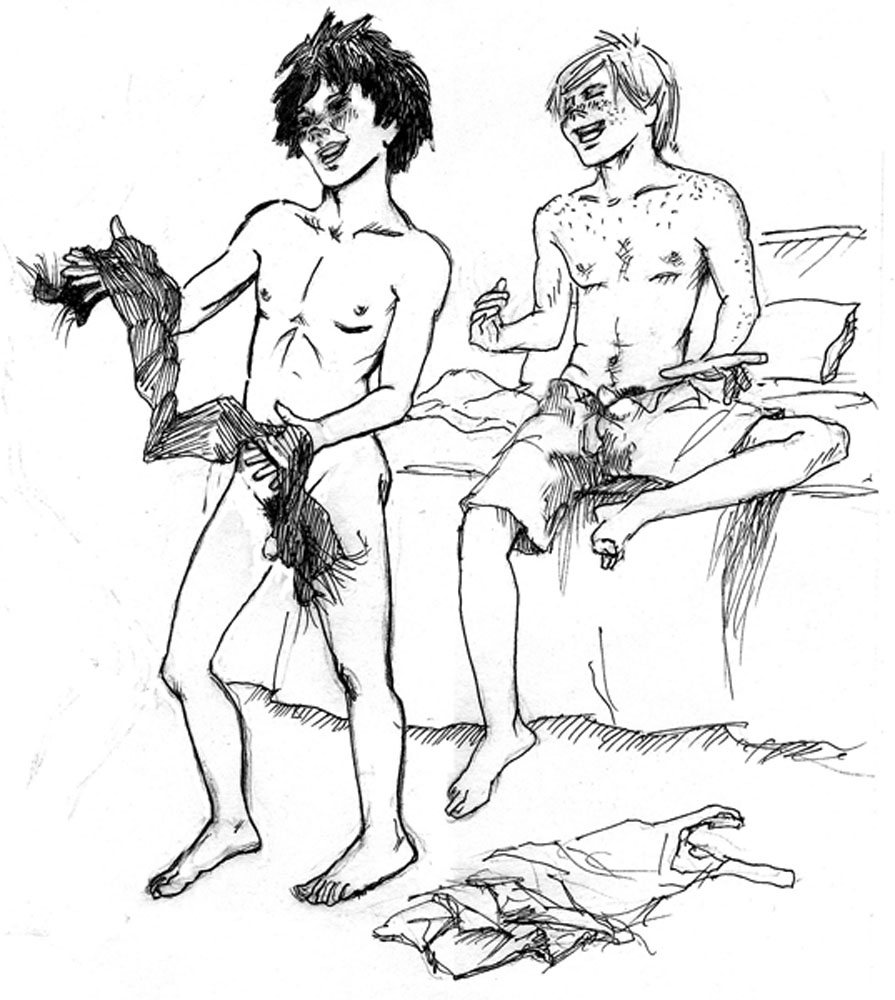 His wet soft cock head spread my lips and then the hard center followed stretching me out. It hurt.
I gasped and tried to mumble something with Jeff's cock in my mouth. It just turned into a gurgle. Kim gave his cock a shove spreading my hole rim even wider, pulling the sides in with his shaft. My eyes bulged and filled with tears. Kim grunted with each dry thrust. My mind flashed colors. Jeff was screwing his cock to get the last inch in my throat. His sandy pubic hair tickling my nose.
I felt Kim's pubic hair scouring my ass cheeks as Kim rolled his hips in a circle before he started slowly pulling out, it felt like my insides were coming out with him. Only half way out he slammed back in. Reflexively I arched my back which let Jeff's cock go deeper down my throat.
Jeff pulled out enough to let me gasp some air then screwed his cock back in while hanging on to my hair for leverage. He pressed hard to get it into my throat as deep as he could. The boys picked up a rhythm and began to stroke in unison. Kim's cock sliding more easily, his stroke had grown long. Jeff literally screwed his cock in and out of my throat deeply. I felt his cock grew more tense. He was getting close. Fucking hard, own beat now. Kim, hammering fast and hard. Jeff, pounding, driving in out in out in out and IN. . .
Kim giggled then again and again, each a little higher pitched. Jeff, cock so stiff; slid straight in and out. Ready, ready, readdddyyy. . . .
Kim first, giggling loud until the first hot spurt warmed my sore ass, wet and soothing. The next shot felt even better.
Jeff drove my throat hard and moaned softly, his sweet juices shot down my throat. Then another shot filled my mouth, another oozed out around my stretched lips.
Cum, once again, was all over my face and dripping out of my nose. My ass burned.
They slowly dragged their sagging dicks out of me pulling cum behind them. My mouth and ass drooled as I let myself collapse to the floor.
I cleared my throat and took a deep soothing breath. My ass ached, my throat coated with cum, face glazed and smeared. I just closed my eyes, two sweaty bodies snugged up close, Jeff's head on my chest.
We slept.
The next thing I knew the sun was shining in my eyes. I woke up just as the doorbell rang. Jeff and Kim lifted their heads. We'd slept on the floor all night.
"Mr. Pete? You home? Mr.Pete?"
I realized it was Dante, the neighborhood kid I was giving art lessons to.
"I'm here, Dante. Give me a sec, would you?" I grabbed a robe from the closet and held my finger up to my lips to Jeff and Kim.
"Quick, slip into the bedroom. Put something on. Wander out in a few minutes like you just got up."
I felt sticky with dried cum smeared on my face as I padded out to the living room and opened the door.
Dante stepped in smiling while looking me over curiously.
"Did you forget Mr. Pete? I wanted to say goodbye before I headed off to school."
Kim and Jeff wandered out of the guest bedroom each wrapped in a bathtowels.
"Hi guy. . ."
There's more...
Pages : 1