3 Review(s) [add review], Author : Donald Cooper, Part 1 from 1.
Rest Area 19

Rest Area 19 was a notorious cruising ground-someone was always giving someone else head in the bathroom. Miguel was not far from Rest Area 19 he'd stop thire on his way to his folks. Sunday morning Miguel drove to Rest Area 19, Alex figured that on Sunday morning the only guys stopping by would be looking for some action- which he and Rob were providing. Alex and Rob went in to make sure the joint was empty, and then they staked out a good spot in the woods-close enugh to see who went in the bath room, but not close that they could be seen. The two guys that were at Rest Area 19 had posted Miguel's name on the wall. A Jetta pulled up, and out strode this cute Latino guy. He looked to be in his 20s with dark eyes curly black hair, a pretty hot body, a very nice butt. He walked into the restroom two uniformed cops outside in the woods. One was about Miguels age the other was one or two years older. He looked around before going straight into the john:- Alex and Rob waited a few more minutes to give the guy time to get going, then Alex and Rob headded toward the door. Miguel walked over to the uranal to take leak he unzipped his fly and pulled out his dick holding his hand on the wall. Miguel was just about pee when the two cops burst in. They were, standing behind Miguel. "Don't move!" Rob shouted. "Police!" He could feel some ones hand on his back Miguel finished up and he looked at the one cop who was holding his hand on Miguel back. He looked like a nice guy he stopped Miguel from putting his dick away and he truned Miguel around the other cop was. Rob stopped Miguel from putting his dick away and turned him around to Alex. "Don't touch your self. "Put your hands behind your head now." Miguel offered no resistance his dick was out the Rob was holding Miguel so the Alex could see Miguels cock "Hey Rob what are we going to do with this guy?" "Alex what do you think we should do with this guy. Sweat ran dwon his face Miguel was neveis. Miguel murmured somthing. Who are these guys, this is very strange. "So are you going to ariste me our something."Miguel said." "Alex says take your pants off." Miguel touck his pants off as Alex tolled him to. "We got us a cherry faggot here." "I'll tell you what boy," he said "Well let you go, all right." After you suck our dicks,"Rob added. He grinned. He had been waiting to get to this part. Miguel kneeled down in front of me and waited for me to get my seven-inch poker out. Released from my pants, my cock seemed to swell even bigger as this guy sized it up for a moment. "Thats a pretty big dick, Offcer," he said. "Just suck it," I said and held my dick slid easily all the way down his throat. Man did it feel good to have his hot lips and tongue all over my throbbing cock!"Yeah, that's it Miguel. Suck my hot cock, you cocksucker." I moaned. "How you doing Alex you?" he asked. "Just fine," I gasped. I didn't need to shove my cock into his mouth he was eagerly swallowing every inch I had Rob's encouragement to the stud sucking my prick shouted to the stud sucking my prick. Pretty soon I could feel that familiar tingle. "Fuck man, I'm gonng to come!" I said "Swallow, it Miguel take my load! Take every drop of that load dude!" I shouted as I shot streak after streak of jizz down this hot Latino guys throat. He wanted it he swallowed my load, and kept on sucking my prick until he got every last drop of come out of me. Rob was jacking his cock he was twitching, and I could tell that he was getting ready to blow too. "Looks like you could ues some service." I got him up off the floor and turned him around and Rob pushed him up against the wall he wonted to stop me, from pushing his face into the wall. " I have to to get my laundry done today, my mom and dad are waiting for me." "You'll get home soon Miguel." "Skata what do you guys want from me Miguel said. Not konwing what would come next. "Hold him Rob,"I said." Alex got out some lube and he smered some into Miguels cark he then pushed his finger in and you know what comes next. "Gezz you got a nice dick what are you going to do with me now?" he said. He'd been waiting for this. Miguel gasped as I worked my way in slowly at first. I fucked Miguel pumping my hips like a wild man. He was into it he moaned as my rhythm got faster, and faster. After a while I pulled back and shoot my load all over Miguel back. It's not over yet Rob wonted to get some too and Miguel was more then ready. He had hot sex with two cops at Rest Area 19 Miguel woke up he was in his bed was that a dream or what it was so hot he almost fell out of bed. Completely spent out Miguel was not sure what he did was it real. Did he meet Rob and Alex was Rest Area 19 real. Miguel went to the Gym and thire was Alan waiting for Miguel to show up he need to tell Alan about his dream . Alan was the only one that he could talk to about it. "Hey man how long you been there Alan said. He knew that Miguel was hiding something. "You know what I need to talk to you Alan he was not saying all that thire was to say.

Pages : 1 | Gay sex stories
Gay stories by category:

Top Stories by niche: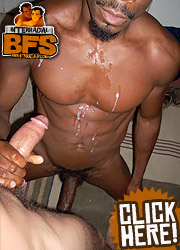 Random story

The lover or the best friend...