DMCA Note
Please contact us if you believe these is any DMCA violation (Note: we allow authors to submit their own stories)!

Please send us email to : abuse [at] agaysex [dot] com.
Random
Public Leather
It was late September and had been a real hot and sticky summer but tonight was foggy and rainy. Now with the rain and fog it seemed more like the whole city was a big steam room. It was only Wednesday, but the first three days of the work week had been hell. It didn't seem like the rain and fog had cooled my apartment off any and to make matters worse, my fuck buddy had called and canceled...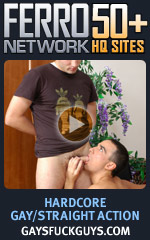 Do You Know?
Feel free to submit your own story! Top writers can win prized and be chooses and Top Writer of Year!

Random
Jailerís Bait
I've been a cop for ten years. In that time I'd had to deal with my fair share of wise guys, but seldom were they as adorable as Jeremy. Just the thought of being touched by his long, smooth fingers made me feel warm inside. I would liked nothing better than to have pulled down his pants and fuck his pert, little ass. Having my thick, eight-inch dong stretching his tight rosy pucker would sure be one way of wiping that smirk off his face...