Random
Paul and Daryl
Daryl was supposedly straight but Paul helped him find his true sexuality...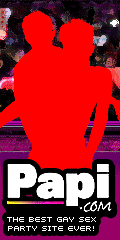 Do You Know?
Feel free to submit your own story! Top writers can win prized and be chooses and Top Writer of Year!

Random
Sand Castles - Part Two
David's love for Nic is tested and he has a difficult decision to make. Will he make the right choices or will he destroy the man he loves...